Protect Your Garage Or Warehouse With Concrete Floor Coatings
The best way to protect your concrete floors in a garage or any other concrete type floors are to have them coated with concrete floor coatings. There are several different types of floor coatings available, depending on what kind of protection you desire such as acid stains, stains, water based epoxies, solvent based epoxies or just sealers. They come in a variety of colors or can be custom matched to to suit your needs.
The amount of durability that is desired depends on what kind of traffic will be on the floor. It can be as light as foot traffic purposes or for heavy forklifts and other machinery. Garages, of course will always require a product that can stand up to tire traffic, which in most cases will require an epoxy type coating. Regular paints, oil based paints, and most stains will fail under constant vehicle use and will peel under the areas where the tires are parked. By preparing the concrete properly and then applying the correct concrete floor coatings, a floor can be protected and have a nice appearance for years to come!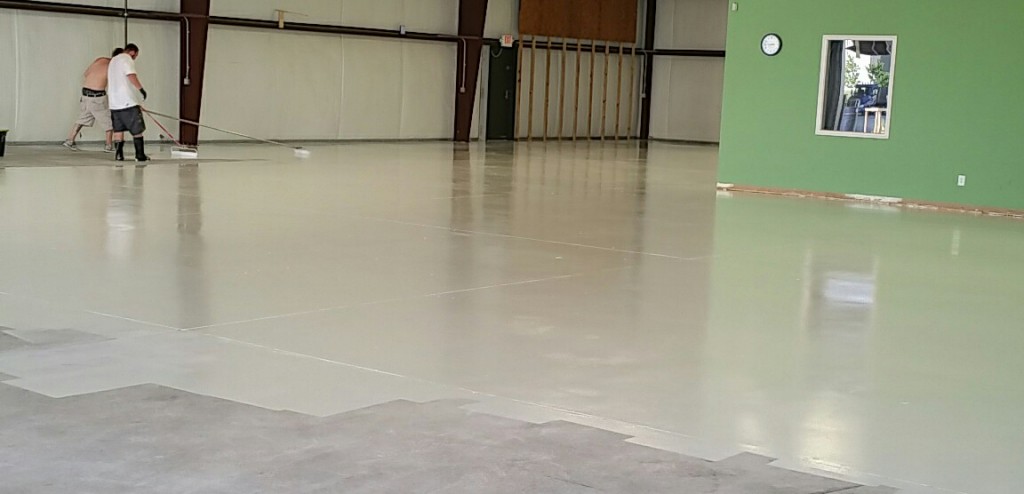 In the above picture, floor epoxy is being applied to properly prepared concrete on a warehouse floor. Coating must be applied evenly and avoid lap marks that would show once dried. Large floors should always be coated by a professional like Paint And Repair in Buford Ga.
Warehouse Floors Have A Nice Appearance With A Concrete Floor Coating
Leave a lasting impression with your customers when they see that your warehouse floor has a nice concrete floor coating! Not only for appearance reasons, but by coating a warehouse floor, it reduces the amount of dust and dirt that builds up in a warehouse environment. The floors are easily cleaned and mopped and the dirt can not get trapped in the pores of the concrete and build up.
A clear urethane sealer is applied as a top coat for durability and performance as well as appearance.
Contact Popovich Paint and Repair for concrete Floor Coatings in your area by using our Contact Page or calling us at 770-374-9122
---